Sand washing equipment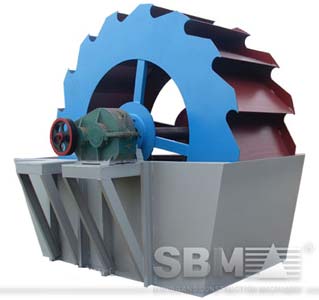 Sand washing equipment is a machine used for processing of sand gravel and building aggregates.
Type of sand washing equipment
With an ever increasing shortage of natural sand and gravel coupled with higher aggregate specifications, there is a growing requirement for contaminated materials to be washed. SBM offer stationary sand washing equipment and mobile sand washing machine for sale in in India, South Africa, USA, Iran, Saudi Arabia, Egypt, Turkey, Indonesia, Zimbabwe and Canada.
Stationary sand washing equipment includes wheel type and screw type sand washing machine. The capacity range of 50-500 tph. It can clean and separate the dust and powder from the sand. Its new seal-structure and reliable driving device can make sure the cleaning effect and a kind of high efficiency sand washing equipment matched with the sand making machine.
Mobile sand washing equipment consist of a fully integrated feeding, screening and sand washing and stockpiling system. It is heavy duty machine with easy transportation, installation and operation. Maintenance time is reduced as a result of design features ensuring quick and easy access to wear and maintenance parts.
The whole sand washing plant
The whole sand washing plant consist of Feed conveyor with extended feed boot (for feeding by 3-way split type machine), Triple deck rinsing screen, Dual sand washing plant, mobile stockpilers, thickener (6m diameter), water storage and recycling system with integrated pump, ME Filter Press.
SBM offer you're the best solution to meet whatever your requirements. Washing plant can wash and accurately size up to 4 products simultaneously, all types of screening media can be easily fitted and changed, minimising installation.
SBM design and manufacture a world class range of mobile and static washing systems to carry out this process. It features no fines loss, accurate adjustable sand cut points, dry dewatered sand using the latest in sand plant technology - customised long life hydrocyclones, high frequency of dewatering screens and ultra-heavy duty slurry pumps are all included as standard.
We also design The whole sand-making production line consisting of vibrating feeder, jaw crusher, VSI vertical shaft impact crusher, vibrating screen, sand-washing machine, belt conveyor, electric control system, etc. The different production lines range from 50 t/h to 500 t/h.
Related Machine