Gold mining in Ghana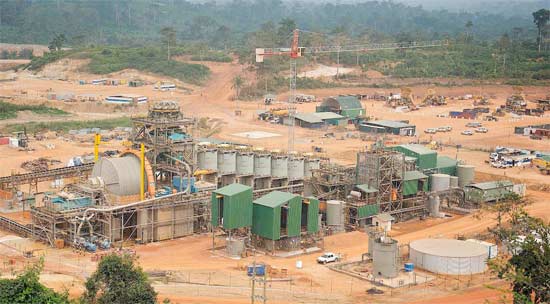 Ghana gold mining is important to the countries' economy. Ghana is also Africa's second biggest producer of gold, and hosts more estimated reserves than such prolific gold producing nations as Peru and Papua New Guinea.
Gold mine in Ghana
Ghana is Africa's second biggest producer of gold. Over 90% of the countries' output originates from underground mines in the Ashanti region of the country. However, an increasing portion of the countries remaining 10% of gold output is from small-scale miners.
Ghana's largest mine is Tarkwa. The Tarkwa Gold Mine is located in south-western Ghana, about 300 kilometers west of Accra. The project consists of six open pits, two heap leach facilities, and a CIL plant. Damang mine, located in south-western Ghana, about 300 kilometers west of Accra.
Newmont Mining Corporation's Ahafo mine is located approximately 300 kilometers northwest of Accra and currently consists of 3 open pits and has expansion potential with reserves contained across 17 pits. The company also has an exploration stage project, Akyem, in the Brim North Eastern region of Ghana located 180 kilometers northwest of Accra.
AngloGold Ashanti's Obuasi operation produced 383,000 ounces a year. AngloGold Ashanti expects its Obuasi mine to produce around 400,000 ounces of gold per year by 2012. AngloGold also owns the Iduapriem mine, which produces an average 190,000 ounces of gold per year.
Bibiani gold mine, owned by Noble Mineral Resources, is located in western Ghana, 250 kilometres north-west of Accra. The open-pit mine, which was commissioned in 1998, is in the Sefwi-Bibiani belt, and contains more than 17 million ounces of gold.
SBM is a gold mining equipment supplier in Ghana, and offer types of rock crusher, grinding mills, vibrating feeder, screen, and washing machine for small scale or large gold mine.
Rock crusher
Rock crusher is the main gold pulverizer machine used for crushing stones with gold into small pieces for gold processing. SBM is a gold crusher manufacturer in China, and offer types of crushers for gold mining in Ghana, such as jaw crusher, impact crusher and hammer crusher.
Grinding mill
Grinding mill is used for grinding crushed gold ores into powder for gold recovery. Ball mill is the main gold mill. SBM can offer wet ball mill and dry ball mill for sale for small scale gold mining or large gold mine deposit. SBM also supply other grinding mills used as gold ore mills, like Raymond mill, SAG mill.
Gold washing machine
Gold washing machine is mainly used for washing the crushed gold dust with screening plant. SBM as a gold wash plant supplier offer types of vibrating screen, washing machine for gold processing plant in Ghana.
Related solution in Ghana
Contact E-mail: [email protected]