Rock crusher for quarrying in Ghana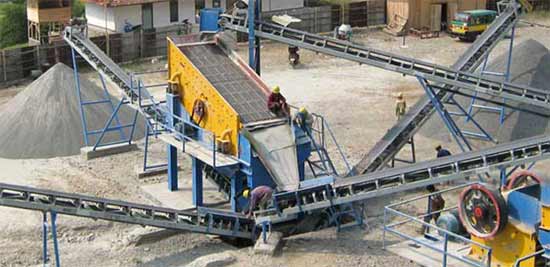 Rock crusher is used as crushing machine, along with vibrating feeder, screen and belt conveyor to make up the complete stone crushing plant for quarrying in Ghana.
Stone quarrying in Ghana
Most of the quarrying in Ghana is done by smaller-scale local operations, produce large amounts of construction and industrial materials, such as granite, cement, sand, and rock.
Consar Stone Quarry is located at Barekese in the Ashanti Region; some 25 kilometers from Kumasi and commenced operations in July 1998. The quarry products are sold to construction firms and private individuals who are engaged in the Road, Civil and Building Construction Industry not only from Ashanti Region, but also from Brong Ahafo, Western and the Northern/Upper Regions.
Aggregate crushing plant
In Ghana, aggregate crushing plant is used for building aggregate production. SBM offer the complete aggregate crushing plant and single machine for stone quarry in Ghana. Different models of equipments are combined to meet different customers' demands according to different craft requirements.
Sand gravel production
The whole sand gravel production line consists of Vibrating Feeder, Jaw Crusher, PCL vertical shaft Impact Crusher (sand-making machine), vibrating screen, sand-washing machine, Belt Conveyor, electric control system, etc. SBM design different silica sand production lines ranging 50 t/h to 500 t/h to crush the hard limestone, granite, basalt, gravel, slag, etc.
Ghana quarrying equipment
In stone quarrying plant, rock crusher is used for crushing stones like dimension stone, and limestone for small pieces, vibrating screen is used for screening out the suitable size for aggregates or sand gravel, belt conveyor is used for transporting the building aggregates to the ship or trucks.
Stone crusher
Stone crusher is main rock crushing machine used for crushing mined stones into small particles. Crusher manufacturer SBM offer types of stone crusher machine for sale in Ghana for quarrying plant. Stationary crushers consist of jaw crusher for primary crushing, impact crusher or cone crusher for fine crushing, hammer crusher for small scale crushing operation. SBM also supply Mobile crusher plant used as Portable rock crushing facilities for stone quarrying and nonmetallic mineral processing plants in Ghana.
Vibrating screen
Vibrating screen is the sieving machine used for different crushed stone size classification. SBM can offer vibrating screen and mobile screening plant for stone quarry in Ghana. SBM Vibrating screen has two types: double layer sand siftering machine and triple-deck screen. According to the size requirements, choose the right screening machine for the heavy duty stone quarrying.
SBM is a mineral, coal, and rock crushing and screening services company based in China. Quarry products: crusher, feeder, screen, belt conveyor, washing machine and grinding mill are used in both large and small quarrying projects in Ghana. SBM carry out extensive market research to ensure a high output rate of equipment production and a superior end product
Related solution in Ghana
Contact E-mail: [email protected]