Gold ore grinding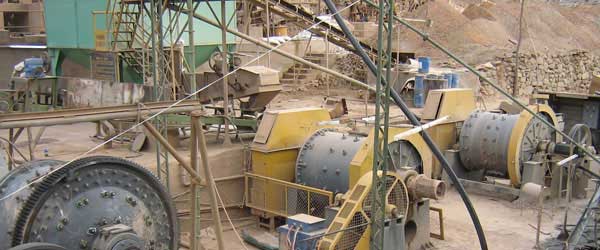 Gold grinding mill
The gold grinding mill is used in the milling process for gold processing. This grinding machine is mainly used for crushing and grinding gold ores into small particles. Then, these gold particles or dust go through concentration process. Gold recovery is by a combination of flotation and gravity concentration, followed by concentrate regrind and cleaner flotation.
Ball mill is the main gold grinding mill, and it is a versatile grinding mill and has a wide range of applications. The mill can vary in size from small batch mills up to mills with outputs of hundreds of tonnes per hour. The mill consists of a cylindrical drum, sometimes tapered at one end, and usually has a charge of steel balls (up to 40% by volume) ranging in size up to 125mm for larger mills.
Stamp mill is a mechanical crusher, which is noisy, heavy and somewhat awkward to operate. The stamp mills have been heavy metal weights that are lifted and dropped on the ore by a crankshaft. The crushed gold ore will then be further refined, typically by a mercury or cyanide method.
According to the requirements for cost-effective and trouble-free material processing, choose the right grinding mill used as gold grinding machine.
Gold milling process
Milling, sometimes also known as fine grinding, pulverising or comminution, is the process of reducing materials to a powder of fine or very fine size. It is distinct from crushing or granulation, which involves size reduction to a rock, pebble or grain size.
The milling circuit is the complete mill system from beginning to end, including feed mechanism, mill, classifier, separator, product collector, etc. In a closed mill circuit the oversize particles are returned from the post milling processes to be re-milled whereas with an open circuit the process has no feedback loop.
The milling process reflects the fine-grained nature of the gold and its intimate association with pyrite, and consists of crushing, grinding, pyrite flotation, and re-grinding the flotation concentrate. Two separate carbon-in-leach (CIL) circuits recover the gold from the re-ground concentrate and from the flotation tails, with final gold recovery accomplished by electrowinning and refining.
SBM is mine ore processing equipment manufacturer in China, offer types of crushers, screening machine, grinding mill for gold processing plant, and also design the complete gold milling plant for gold quarry in Russia, south Africa, Australia, Peru, China, Germany, Liberia, Angola, Indonesia Philippines, America Tanzania, Saudi Arabia, Malaysia Zimbabwe Nigeria Turkey, Ghana.
Gold Mine