Gold Leaching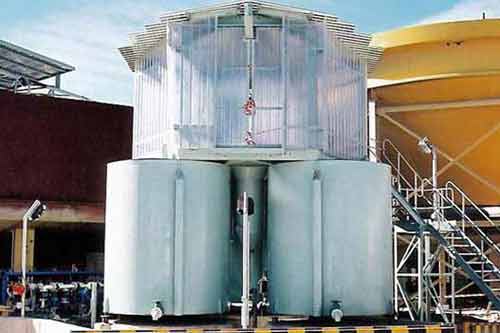 Gold leaching is the chemical mineral processing method used for gold Extraction. Cyanidation and gold leaching achieve new levels of safety and performance in even the most difficult applications far surpassing the performance of other forms of gold leaching equipment.
Gold leaching equipment
Gold leaching equipment combines performance and safety with compact design allowing an entire leach facility to occupy only a fraction of the space needed by alternative methods, and leads the field of gold cyanidation with distinctive technology designed for application versatility and outstanding performance. Unique proprietary technology overcomes the current boundaries of gold chemistry and allows dissolution under circumstances previously not possible with other gold leaching equipment.
Tubular Reactor
Tubular Reactors are used for the gold leaching of ores, flotation concentrates and refractory ores that require accelerated or enhanced cyanidation reaction kinetics. Tubular reactors operate at high pressure and temperature effecting gold cyanidation within the volume of a pipe. A dissolution tubular reactor operates continuously with reagents injected into the pipe at various points using spargers. In many gold leaching applications pipe reactors also use Hydrogen Peroxide (H2O2) and O2 to react with sulfides and other minerals helping liberate gold and enhance the leaching process within the tubular reactor.
The tubular reactor is fed with gold ore slurry, flotation concentrate or refractory gold ore via a high pressure slurry pump. A heat exchanger is used to start and maintain the thermal reaction within the pipe reactor.
Dissolution tubular reactors have a relatively low capital cost compared to other chemical treatment routes for gold ores and concentrates and make highly effective use of available space. DTR's are designed to accommodate the specific residence times required by the material they are treating as well as the reagent requirements of the chemical reactions taking place in the tubular reactor.
Intensive Cyanidation Reactor
Intensive cyanidation requires optimal volume for correct residence time. Intensive cyanidation reactors make use of mechanical agitation, optimizing the mass transfer kinetics of cyanidation. High reagent concentrations are utilized ensuring that these factors do not become rate limiting thereby optimizing dissolution of the gravity concentrates. The intensive cyanidation reactor operates continuously. Closed tank design ensures a high safety factor and prevents accidental environmental contamination.
Cyanidation Reactors have the following benefits:
Continuous Operation: Zero Short Circuiting: Optimal Leach Performance: Very High Process Availability.
Gold leaching equipment manufacturer
SBM is a gold leaching equipment manufacturer in China, and offer types of gold ore crushers, grinding mills and classifier, screening machine, Gravity Concentrator, flotation machine for Gold Beneficiation Process in Zimbabwe, Nigeria, South Africa, Russia, Australia, China, Germany, Liberia, Angola, Indonesia, Philippines, America Tanzania, Saudi Arabia, Malaysia, Turkey, Ghana, Peru.
Gold Mine