Gold ore Crushing and Screening plant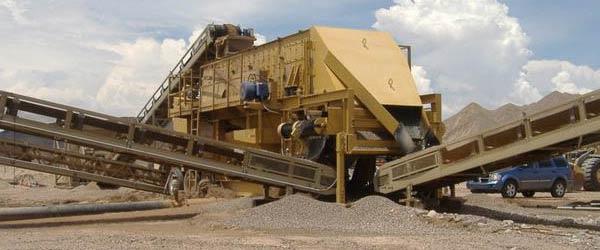 Gold ore crushing and screening plant is used for crushing and grinding gold ores into small pieces. These small gold particles through magnetic separator and gravity plant or flotation for gold extraction.
Gold ore crushing plant
In the complete gold ore crushing plant, some of the material gets crushed down to the size you want, but other pieces don't. The small stuff then often gets in the way of the crushing process as you are working, basically protecting the larger pieces from being crushed and creating more work.
Gold ore screening plant
The gold ore screening plant is the classification Module. No matter which crushing system you're using, the process will go far faster, and come out better if you do repeated screenings of the material from time to time. You need to screen out the gold ores that's already been crushed to a small size during your crushing. The coarser rock that won't go through your screen can then be returned to the crusher for further work to break it down, and the fines won't get in the way. The size of screen in the range of 16 to 20 mesh is a good size.
Gold ore crushing and screening machine
There are several types of stone crusher used in gold ore crushing plant. Jaw crusher is the coarse gold ore crushing machine. It is used in gold ore primary crushing process. Cone crusher is used in the gold ore fine crushing process. Hammer crusher can take the function of both crushing and milling. It not only simplifies the procedure but also saves money. Hammer mill and small jaw crusher are mainly used small scale gold mining plant.
Vibrating screen is the main gold separation equipment. General it unite with gold washing machine. The complete gold ore screening Module also includes a primary trash removal screen, dual hydrocyclones and a concentrator protection screen.
The crushing and screening operation is designed to operate at a higher tonnage throughput than the gold processing plant. Higher throughput allows the crushing and screening operation to fill the buffer capacity provided in the fine ore bins as well as to operate for a shorter period per day.
SBM is a gold ore crusher and screening machine manufacturer in China, and offer types of gold crushing, grinding, screening, washing machine and magnetic separator, Final Concentrate Shaking Table, flotation machine for gold mining, processing plant in Russia, south Africa, Australia, China, Germany, Liberia, Angola, Indonesia, Philippines, America Tanzania, Saudi Arabia, Malaysia, Zimbabwe, Nigeria, Turkey, Ghana, Peru.
Gold Mine