Gold ore processing
Gold ore processing flow sheet
The flow sheet of gold ore processing includes crushing and screening, grinding, Gravity concentration, Intensive cyanidation, Final Recovery, Tailings disposal.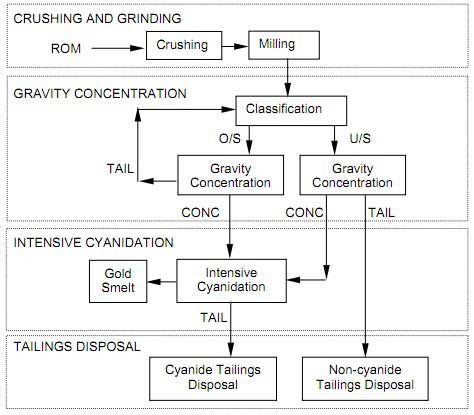 Crushing and Screening
The gold ore crushing and screening process is first stage for the gold recovery plants. The gold ore crushing plant is used to get some of the materials crushed down to the size you want, but other pieces don't. The gold ore screening plant screen out the stuff that's already been crushed to a small size. The coarser rock that won't go through screen machine can then be returned to the crusher for further crushing to break it down.
Milling
The gold ore milling treatment process is the size reduction of the gold ore particles down to a size giving liberation of the gold/mineral particles. The ore mineral should be recovered at its natural size of liberation. The optimum particle size is in the 300µm to 1000µm range. This results in significant savings in the capital and operating costs of the milling circuit.
At such a coarse grind classification may be achieved with either hydrocyclone or vibrating screens. The use of screens has the benefit that the classification is not influenced by the specific gravity of the material.
Gravity Concentrator
Recovering gold by gravity is by far the oldest, most cost effective and environmentally friendly method available. Within the gold mining industry the use of gravity equipment until recently was regarded as old technology. As more effective chemical processes have been developed such as CIP/CIL and flotation it was relegated to the treatment of low grade ores due to its low cost, especially alluvial mining.
Intensive Cyanidation
The only proven technology giving high gold recoveries from gravity concentrates is intensive cyanidation coupled with either direct electrowinning or carbon absorption. Continuous ILRs have been successfully operated in Australia, Malaysia, Ghana, Tanzania, Mali and Argentina at throughputs from 50kg/h up to 10t/h.
Gold processing plant
Mobile gold processing plants are self-contained, fully operational, which are sold as a complete product and which cater specifically for the needs of the small scale gold mine. Each of the small, modular gold processing plants consists of a jaw crusher, ball mill and centrifugal gold concentrator, mounted in a bolted construction steel frame for complete mobility and easy maintenance access.
SBM offer types of gold ore processing machine, like crusher, screening machine, grinding mill for gold processing plant, and also design the complete gold ore processing plant for gold mine in Russia, south Africa, Australia, China, Germany, Liberia, Angola, Indonesia Philippines, America Tanzania, Saudi Arabia, Malaysia Zimbabwe Nigeria Turkey, Ghana
Gold Mine