Quarry equipment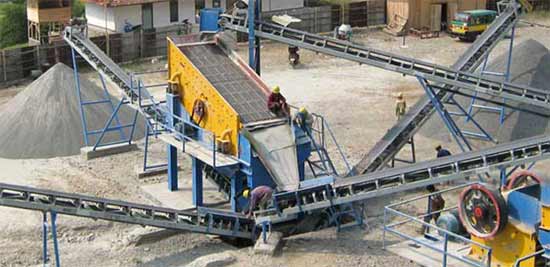 Quarry equipment is used for quarrying stones, rocks for aggregate, artificial sand production. The stone quarry plant produce aggregates, tar macadam and asphalt products for Roads, Pavements and other construction building.
Quarry equipment for stone
Stone quarry equipment are used for large or small scale quarrying site. These quarry business include granite quarrying, limestone mining, marble quarry and sand quarry.
Granite quarry equipment
Quarry equipment used in granite quarrying plant consist of truck, excvavtor, crusher, vibrating screen, and belt conveyor. Crusher is the main granite quarry equipment. SBM has different ranges of Crushers, both Primary and Secondary; Comprising of Cone, Impact, Jaw Crusher and Vertical Shaft Impact Crusher, Both mobile and static, designed to suit all needs.
Marble quarry equipment
Marble quarry equipment is mainly used for quarrying marble stones for construction building. Excavation, transportation, and processing are the three key phases in marble production. SBM offer equipment, solution and service for marble quarrying industry. Vibrating screen is another widely used marble quarry equipment, especially screening aggregate has developed into the quarrying machinery used today.
Limestone quarry equipment
Limestone quarry equipment is used for limestone mining plan. Limestone quarry plant is for crushing limestone into small particle, then screening out the suitable aggregate size for building materials production. The capacity of complete limestone quarrying plant is 50 t/h – 500 TPH. Some small scale limestone quarry is 5 tons per hour.
Sand quarry equipment
Sand quarry equipment is mainly for artificial sand production. In this plant, sand making machine and washing machine is the main quarry machine. SBM VSI impact crusher is the main sand making machine used after crushing process for stone shaping. Screw and wheeled sand washing machine can be used in sand quarry plant.
Equipment used in stone quarrying plant includes crusher, screen, feeder, belt conveyor and washing machine. Quarry crusher consist of jaw crusher for coarse crushing, impact crusher for secondary or tertiary crushing, cone crusher for fine crushing, VSI crusher for sand making. From a single crusher to a 500 tonnes/hour complete crushing plant, SBM quarry machines are designed to meet the most exacting crushing and screening requirements.
SBM is quarry equipment manufacturer in China, and offer types of stone quarry equipment for sale in Nigeria, China, UK, Ghana, Malaysia, Europe, India, Ethiopia, Brazil. SBM has served the construction industry for going on 30 years. We are a solid, well-established source of construction, quarry equipment and repair services at substantial savings.
Contact E-mail: [email protected]