Limestone mining plant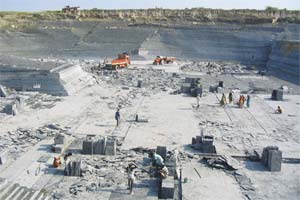 Limestone mining plant is used for quarrying and processing limestone for rough block for construction building or dressed stone in various applications including curbing, paneling, veneer, and tile.
In stone quarry, production of limestone aggregate from surface quarries will undoubtedly remain the principal method of mining. Underground limestone mining, however, is an important and an increasingly common method of extracting limestone.
Limestone mining process
Limestone mining process is relatively simple: locate or create (minimal) breaks in the stone, remove the stone using heavy machinery including drilling, cutting, prying, and use of explosive charges, secure the stone on a vehicle for transport, and move the material to storage.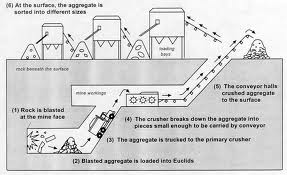 Flow diagram of typical limestone mining operations: the first step in quarrying is to gain access to the limestone deposit. This is achieved by removing the layer of earth, vegetation, and rock unsuitable for aggregate with heavy equipment that is sometimes coupled with small explosive charges. After the face of the limestone is exposed, the stone is removed from the quarry in benches. Limestone Quarrying operations typically include drilling holes along the perimeter of the bench followed by cutting the stone out of the deposit using saws equipped with diamond wire, or by splitting the stone using hydraulic splitters. Once the bench is cut or split loose from the deposit, heavy equipment is used to lift the limestone bench and transfer it to an inspection area for grading, temporary storage, occasional preprocessing into slabs, and eventual shipment from the site. Limestone of insufficient quality or size for current demand is stored on-site for future use, crushed for use in paving and construction applications.
Limestone mining equipment
The limestone mining equipments include crushing, screening and Transmission equipment. A major element of the limestone mining process is breaking up the rock. Front end loaders then lift the rock into haul trucks which transport it to a rock crusher sometimes outside the mine. In deep limestone mines, the primary crusher is inside the mine, and crushed rock is moved via conveyor belt through an inclined tunnel to the surface where it is processed further.
Rock crusher is used for crushing mined limestone into small particles for aggregate production. Jaw crusher is the primary limestone crusher machine, and is usually used in underground limestone mining plant.
Vibrating screen is the sieving machine used for screening out the suitable limestone aggregates according to the mesh size.
Belt conveyor is the Transmission equipment used to transport limestone from mine to storage or processing plant.
SBM is the limestone mining equipment manufacturer in China, and offer types of equipments for limestone quarrying, mining, and processing. SBM also design limestone mining plant in China, Indonesia, Malaysia, Philippines, India, Uganda, Saudi, Ghana, and USA.
Limestone Mine Project