Mobile sand washing plant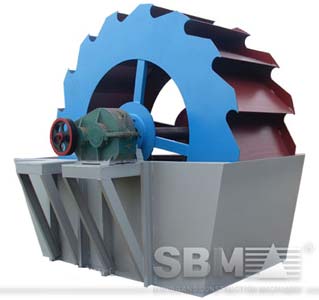 Mobile sand washing plant is widely used for cleaning silica sand, river sand, and sea sand.
SBM is a famous mobile sand washing plant supplier in China, and offer a wide variety of equipment for the treatment of materials. crushers, screen, belt conveyor and washing machine for the whole sand mining plant. SBM Mobile sand washing plant brings rinsing, screening, scrubbing and sand washing capabilities on a single transportable chassis.
Mobile sand washing plant for silica sand
Mobile sand washing plant is used with crushers, screen, feeder and belt conveyor to make up the whole sand making line. SBM has distributor for range of crushing screening, washing and recycling equipment in India, South Africa, and Saudi Arabia. We are leading experts in the field to advise, design, sell, installation service and maintain our full range of crushing, screening and washing plant equipment.
In India, mobile sand washing plant is mainly used for washing and drying crushed granite, marble and limestone particles. Two inclined shafts rigorously agitate the material and using the archimedial screw principal, the stone is pushed forward towards the discharge chute. An additional option of a final rinse followed by dewatering on a small dewatering screen can be mounted at the outlet if required.
Mobile sand washing plant for river sand
Mobile sand washing plant is also used in river sand cleaning process in South Africa. It is most efficient, cost effective and energy conscious systems for the stone quarry business. This sand washing system have been engineered for quick installation and ease of relocation, ideal for shorter term projects.
The complete sand washing system is high performance mineral-classifying cyclone and dewatering units. It is also used for washing sand & gravel, crushed rock, quarry dust and recycled concrete.
Mobile sand washing plant for sea sand
Mobile sand washing plant can be used in sea sand wash plant in Sri Lanka. SBM can design special sand washing plant for longer term production requirements, for strength and maximum throughput, incorporating a centrifugal rubber lined slurry pump(s), vertically mounted hydro cyclones, a collection tank and a dewatering screen.
SBM mobile washing plant is mainly used for dewatering and removing the silt content from washed sand. It sometimes, is used for manufacturing Concrete, building, mason and plaster sands.
Related Machine