River stone crushing plant
River stones are mainly river red stones or materials, such as river gravels, boulders, cobbles, and river sands. These river mixed aggregates are mined, and then transported to the stone quarry for crushing.
In quarry, river stones are crushed by rock crusher machine into small dust, general there are four types of crushed river aggregates screened out from vibrating screen.
Coarse sand: 0.6 mm - 2 mm
Fine gravel: 2 mm - 6 mm
Medium gravel: 6-20 mm
Coarse gravel: 20-60 mm
Crushing machine used in river gravel plant
In quarry, the complete crushing plant is used for crushing and screening the appropriate river aggregates. It general includes three crushing process and one screening process.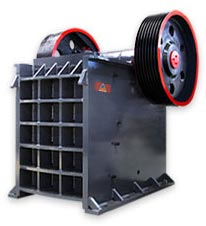 Jaw crusher is mainly used for primary crushing in river stone coarse crushing unit. The capacity of large scale jaw crusher can be upto 400-800 tons/hour, while small jaw crusher is 1 t/h. So, according to the capacity of crushing plant, choose the right scale of jaw crusher.
Impact crusher can crush river stones with diameter 350 mm into small particles with diameter 20-60 mm in medium crushing process. Our impact crushers have 4 or 8 hammers, and the crushed stone materials are in cubical shape.
Cone crusher is mainly used in fine crushing unit. CS series cone crusher is the most common cone crusher. Compared with other models, CS series cone crusher with high-efficiency has long crush arms, long impact distances, high crush powder, and can crush the materials in the chamber efficiently. Hydraulic cone crusher is the newest cone crusher. Owing to the change of the concave's style and the protect of the crushed products, the abrasion of the machine is reduced greatly and can last long compared with the old cone crusher.
Vibrating screen is the screening machine in stone crushing plant. It can screen out the appropriate dusts using the right sieve pore size of screen according to the requirements of size.
There are other quarry equipments such as belt conveyor, sand washing machine and vibrating feeder used in river stone crushing plant.
If you want to get artifical sand substitute of river sand, you must add vsi crusher after medium crushing process. It has two funtions: sand making and stone shapping, so it is also called sand making machine or stone shapping machine.
River stone crusher manufacturer
SBM is a famous stone crusher machine company in China, and manufacture all kinds of crushers and grinding mills for sale. The river stone crushing unit we supply can crush rover stones like pebble, river rocks for building construction materials and make manufacturered sand substitute of river sand. We not only supply the complete crushing and grinding plant with bid prices, but also the installation and maintenance service for the customers in Egypt, USA, India, South Africa.
Related Products