Sand quarry equipment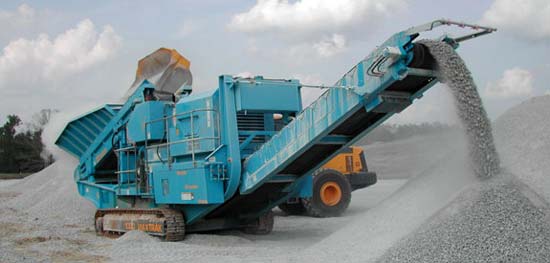 Sand quarry equipment are used in stone quarrying, mining plant for aggregate, and sand gravel production.
Type of sand quarry equipment
In the whole sand production line, crusher, vibrating feeder, screen and washing machine are the essential sand quarry equipment. According to the capacity and final size, choose the different type to make up the complete sand quarrying plant.
Crusher is the main sand quarry equipment used for crushing rocks, sand stone, granite into small size for sand gravel production. In the sand making plant, Jaw crusher and gyratory crusher are available for primary crushing. The throughput for jaw crushers can range up to 1800 Mg/h depending on the feed material. Cone crusher and impact crusher are implemented for secondary crushing or tertiary crushing process.
A fully mobile crusher can also be converted into a semi mobile unit by using a skid mounted feed hopper. This feed hopper is very large, so that dump trucks can unload the raw material directly. Normally jaw crushers are equipped with a vibrating feeder, a bypass to keep small fractions away from the crushing process, the crusher itself, and a main conveyor.
Sand quarrying system
Hydraulic excavator is used for loading system. Due to the site mobility the mobile crusher is ideally suited for being loaded by a hydraulic excavator in backhoe operation. Even loading methods, which are using a dump truck or excavator with face shovel, are not excluded from feeding a mobile crusher.
Transport between the crushing and screening stages could be eliminated completely, by installing a fully mobile crushing plant. These plants consist of different stages of crushing and screening, each on a mobile unit. The mobile crusher feeds a secondary crushing unit, in which a first screening and secondary crushing are carried out. This generates a first product and material to be further processed in a tertiary crushing unit.
The mobile conveyors are assigned to haul the crushed material to the fixed system and equalize elongation between those two systems. These tracked mobile conveyors work over shorter distances than stationary ones.
Sand quarry equipment manufacturer
SBM is a sand quarry equipment manufacturer in China, and offer crushers, vibrating feeder, vibrating screen, washing machine and belt conveyor for sand quarrying and mining plant. We also design crushing and screening unit for quarry plant, Every reasonable combination of mobile crushing and mobile screening units can be combined.
SBM Sand quarry equipment has stationary and mobile type. The key to cost reduction is an in pit crushing system, a combination of track mounted mobile crusher, with mobile and fixed conveyor belts. In some small scale or very large sand making plant, stationary crusher, vibrating feeder, screen is to make up the whole sand quarry plant.
Related Machine