Mobile crushing plant for ores mining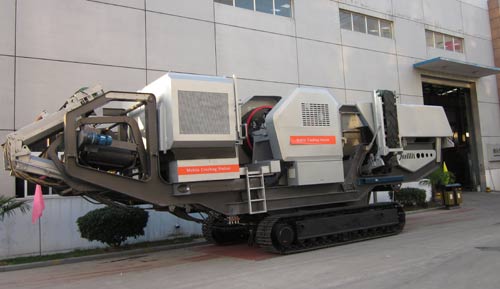 Mobile crushing plant is used as portable metal ore crusher and screen for concentrating iron ores, copper ores.
Mobile crushing plant
Mobile crushing plants have two type: Crawler Mounted Crushing Plants and Wheel Mounted Crushing Plants. They are designed for heavy duty operation at mines and quarries and for contract crushing.
Crawler Mounted Crushing Plants
Crawler Mounted Crushing Plant comes complete with crusher, feeder, Feed hopper, discharge conveyors, chutes, Chassis, Track and electrical. It will attain capacities from 150 TPH to 400 TPH in demanding applications from iron ore to aggregate to recycling of construction rubble.
True mobility with compact dimensions
Remote operation with advanced controls
Wide options for customization
Wheel Mounted Crushing Plant
Wheel Mounted Crushing Plant comes standard with a Feed hooper for payloader and excavator loading. Crusher is positioned feeding and receiving conveyors, heavy duty grizzly feeders. Each crushing plant is designed for ease of access to facilitate maintenance, which is efficient, versatile and produces high production rates.
Iron ore mobile crusher
Mobile crushing plant is used as iron ore concentrator for mining, processing. It is composed of jaw crusher, feeder, belt conveyor and screen, can maximizes output and provides a reduced requirement for secondary crushing. This unit is both larger and operates at a steeper incline than any other similar system, ensuring that the material is cleared quickly in high TPH applications, all while protecting the conveyor belt from damage.
Copper ore mobile crushing plant
Mobile crusher is used as copper ore crushing machine for concentrating. It offers high material capacity and throughput, large stockpile capacity. In the copper ore processing plant, mobile crushing plant is used as concentrator for crushing ores into small pieces. Except of ores, the plant is widely used in building material, highway, rail way and hydropower industries, etc.
As a mobile crushing plant manufacturer in China, SBM offers crushing, screening and conveying equipment to mining, construction and cement industries. we are dedicated towards our customers and committed to the performance and reliability of our equipment. Our tradition is to provide our customers with the best value mix to deliver reliability at the lowest cost.
Related