Kaolin Mining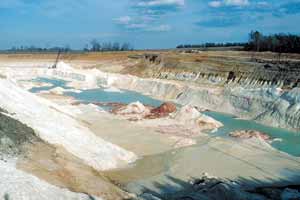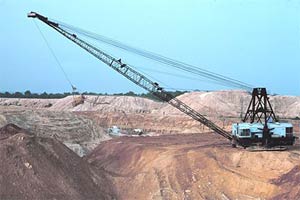 The kaolin clay mining and processing by machine is used for producing china clay powder for paper industry, clay-based ceramics and refractories, white cement, fibreglass, and fillers and extenders in rubber, paint, plastic and adhesives.
Kaolin mining process
In the kaolin mining process, Kaolin Clays usually are transported by truck from the mine to the processing plants, many of which are located at or near the mine. For most applications, clays are processed by mechanical methods, such as crushing, grinding, and screening, that do not appreciably alter the chemical or mineralogical properties of the material. However, because clays are used in such a wide range of applications, it is often necessary to use other mechanical and chemical processes, such as drying, calcining, bleaching, blunging, and extruding to prepare the material for use.
Kaolin mining equipment
Most domestic clay is mined by open-pit methods using various types of equipment, including draglines, power shovels, front-end loaders, backhoes, scraper-loaders, and shale planers. In addition, some kaolin is extracted by hydraulic mining and dredging. Most underground clay mines are located in Pennsylvania, Ohio, and West ia, where the clays are associated with coal deposits. A higher percentage of fire clay is mined underground than other clays, because the higher quality fire clay deposits are found at depths that make open-pit mining less profitable.
Kaolin crusher is the essential kaolin mining equipment, it is mainly used to crush large kaolin mine into small particles. SBM offer types of crusher machines used for kaolin clay crushing plant, such as jaw crusher, hammer crusher, mobile crusher and cone crusher.
Kaolin mill is the main kaolin clay powder making machine. It is used for grinding crushed kaolin into powder. SBM can offer ball mill, raymond mill, coarse powder mill and ultrafine mill for kaolin clay powder production.
SBM is mining equipments supplier in China, can offer kaolin mining equipments: crusher, screening, washing machine and grinding mill for kaolin clay quarry plant in USA, Brazil, UK, Georgia, South Africa, Nigeria, Sri Lanka, Malaysia, Tanzania.
SBM also design the whole kaolin mining process and equipment for the kaolin mine according to the capacity and other requirements.
Kaolin processing
Contact E-mail: [email protected]