Quarry equipment in Nigeria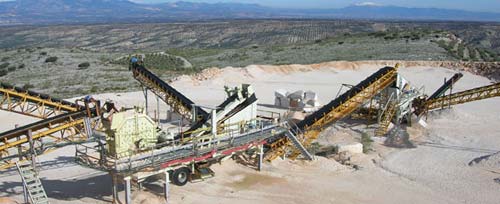 Quarry equipment including rock mining, crushing, screening machine are used for granite quarry site, limestone quarrying business.
Rock crusher in Nigeria for quarry
Rock crusher is the main quarry equipment used in Mining And Crushing Plant. In the Complete stone quarrying site, there are two types of crushers used as pulverizing machine: Stationary crushers and mobile crushers. These two types crushing machines are both widely used in stone quarrying business in Nigeria.
Stationary rock crushers include primary crusher, secondary crusher, tertiary crushers. Jaw crusher and hammer crusher can be used as primary crushers. Jaw crusher has two types: small and large. Small jaw crusher is used to produce crushed stones with capacity 5-30 ton per hour. The output of Large heavy duty jaw crusher ranges from 300 - 1000 TPH. Hammer crusher is mainly used in stone powder making line with 5 tonnes per hour. Impact crusher and hydraulic impact crusher is mainly used in secondary crushing process. Cone crusher and gyratory crusher are usually used in fine crushing plant.
Mobile crusher plant is a crushing station uniting feeder, belt conveyor and crushers. Usually it move by tire or track. Mobile crusher is medium size quarry equipment in Nigeria with capacity 100-300 TPH. Track type mobile crusher is usually used in limestone quarry site and granite quarry site in Nigeria. According to the different crusher, mobile crusher has different capacity and application.
Quarry equipment for limestone in Nigeria
SBM can offer quarry equipment for limestone mining in Nigeria including crushing, screening machines. The complete lime stone quarrying plant includes vibrating feeder, belt conveyor, rock crushers, vibrating screen and washing machine.
In Nigeria, Limestone quarry machine is mainly used in cement grinding plant. Macmahon Holdings Ltd is a limestone quarry company quarrying operations near Calabar in Nigeria. This limestone quarrying operations at UniCem's 2.5 million tpa cement manufacturing plant in Mfamosing, about 40 km north east of Calabar in Cross River State, Nigeria. If you need quarry machine for limestone in Nigeria, please contact SBM.
Equipment for Granite Quarry business in Nigeria
Quarry equipment in Nigeria is widely used in granite quarrying business. There are types of quarry machines used in this granite industry. SBM can offer types of crushing machine, screen for granite quarry business of Nigeira. Five activities produce crushed stone from the naturally occurring rock namely; Blasting, Transportation of both rock and crushed rock and storage of graded stones.
Granite quarrying plant includes overburden removal and the drilling, blasting, excavation and delivery of limestone, marl and shale from the quarry to the cement plant crushers. If you want to build a granite quarry business plant, these datasets produced on routine basis include time-series on quarrying and mining licences and titles, revenue from mining activities, budget, employment and personnel costs.
Contact E-mail: [email protected]