Stone quarry plant in India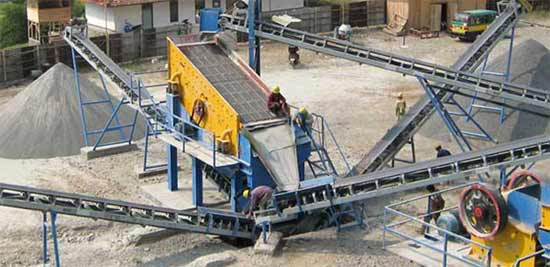 Stone quarry plant consisted of machine: crusher, screen, belt conveyor and washing equipment are used for crushing plant in stone quarry business in India.
Stone quarry machine in India
Stone quarry machine includes rock crushers, vibrating feeder, vibrating screen, belt conveyor, washing machine and grinding mill. These machine are used in stone quarry plant for producing aggregates, sand and gravel for construction building materials.
SBM develop and manufacture large stone quarry machine including crushing and screening machines, for preparation plants with high capacities, and has used successfully in the important industrial and mining nations. While our wide range of stone quarry machines for small and medium capacities is also being developed further using up to date technology.
SBM can offer types of rock crusher machine for stone quarry plant in India. Jaw crusher is used for primary crushing, impact and cone crusher is used for fine crushing. Hammer crusher is used for stone powder making. VSI crusher is used for sand making. SBM also offer Mobile crusher used in mobile quarry plant in India.
SBM vibrating screens achieve a very accurate separation, even with extremely high feed rates and difficult material. We build and supply specialised screening machines for pre-screening, underwater screening and sand-screening.
Stone quarry plant in India
Stone quarry plant in India is widely used for sand and gravel, building materials, rocks, crushed stone, chipping, minerals, copper an iron ores, pellets, sinter, coal, coke, and petrol coke.
India is an important developing country  supplier of natural stone products. Granite quarry plant in India is seen around the city. Sandstone quarry plant is in Rajpura, Basoda and Garda. Most of Stone quarry plants are mainly located in the states of Rajasthan, Madhya Pradesh, Andhra Pradesh and few locations in Gujarat, Orissa, Karnataka, Tamil Nadu, Andaman and Nicobar. These stone quarries are mainly used for quarrying Granite, Marble, Sandstone, Limestone and Slate.
Stone quarry plant in India obtain stone materials from underground by a process of digging, blasting or cutting. Quarries can be divided into two broad categories: Vertical Quarries and Horizontal Quarries. Rajasthan is the largest producer of dimensional stones in India, Looking at sandstone, Rajasthan contributes around 10% of the total production in the world. Open cast quarrying is practiced in the area as the sandstone is found at shallow depths over a large area.. Rajasthan's sandstone conforms to the highest international standards and has been used in well-known buildings all over the world.
SBM can offer single stone quarry machine and complete quarrying plant for the stone quarrying business in India. The stone quarry plant in India has three type: Small, medium and large. Small stone quarry plant has one small jaw crusher with capacity 5-50 t/h. Medium stone quarry plant in India has jaw crusher and impact or cone crusher for primary and secondary crushing with capacity 100 -300 TPH. Large stone quarry plant has capacity more than 500 TPH.
Contact E-mail: [email protected]