Equipment for Stone quarry plant in China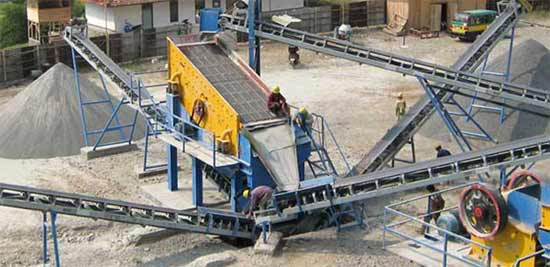 Stone quarry plant in China is used in limestone quarry, granite quarrying, quartz mining business for aggregates, sand gravel production.
Quarry equipment for sale in China
SBM has offered types of quarrying equipment including crushing, screening, washing, and grinding machine for stone quarry plant in China more than 30 years. These quarry equipment contain large single stone crusher, mini jaw crusher, mobile crushing plant and the complete stone quarrying solution.
Grizzly Feeder is the widely used quarry machine for feeding. SBM feeder with High capacity is used for Feeding crushers, Scalping reduces load on crushers, Heavy duty handling of large lump sizes. In the feeding process, it can breaks up lumpy material. All sides of each particle are exposed to deck openings, resulting in higher capacity and more efficient scalping. Small vibrating feeder has capacity 250 to 350 tph, while large machine with 2400mm wide has 1200 to 2500 tph.
Impact crusher is the most secondary crushing machine widely used as quarry equipment in stone quarry pant in China. Impactor crusher unit is fitted with three hammers. depending on material feed size and reduction required. hydraulically adjusted bar carrier from 4 to 60mm (3/16" to 2 3/8").
Mobile crusher plant is consist of Chassis, Hopper, Feed Conveyor, Crusher Unit, Product Conveyor, and Drive System. SBM mobile crushing unit assure less downtime, and greater economy. The portable crushing plant is the most efficient on the market today.
Belt conveyor is the essential transporting machine. It is widely used in feeder and crusher, crusher and trucks. Feed belt conveyor with full length skirting and is driven hydraulically through a high torque reduction gear. SBM heavy duty belt conveyor is hydraulic folding for ease of set-up.
Stone quarry plant in China
Mining and quarrying industry is a basic industry of national economy. China has rich mineral resources. All districts have different stone materials. In China, the stone quarry plants includes granite quarry, limestone quarrying, and quartz mining.
Granite quarry
In China, granite mining and processing industry across the country 27 provinces. East China is the most important producing areas. Fujian is the most important production base of granite quarrying. The existing granite mining is more than 5,000 points, with more than 2,500 board processing enterprises. Shandong has more than 1400 granite stone quarry business, granite origin concentrated in Rongcheng, Linyi, Laizhou and so forth.
Limestone quarrying
Hubei, Guangdong and Liaoning are the major production bases for limestone & plaster quarrying industry in China. Shandong has most leading limestone & plaster quarrying enterprises. limestone & plaster quarrying enterprises above designated size achieved a sales revenue of more than USD 4 billion. On average, the ratio of return on assets in limestone & plaster quarrying industry was higher than 10%.
Contact E-mail: [email protected]