Belt conveyor, vibrating feeder, screen in China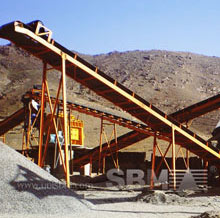 Belt conveyor is the transporting machine widely used Bulk Material Handling in stone quarry and mine mining plant. It is used for crushed stones or mine ores transmission. SBM belt conveyor solution provided energy savings and reduced operating costs.
Troughed belt conveyor is that in which the belt forms a trough on the carrying side while running over idler rollers which are either in set of 5 rolls, 3 rolls or 2 rolls. Troughed belt conveyors are used for higher capacity, higher speed requirement, and for handling bulk material of large lump size. It suitable for inclined or declined type conveyors.
Flat belt conveyor is that in which the belt runs flat on the carrying side over straight roller type idler or a set of idlers. Flat belt conveyors are suitable for lower capacity, low speed requirement and for handling unit goods or bulk material of small lump size and higher angle of repose. Declination is undesirable.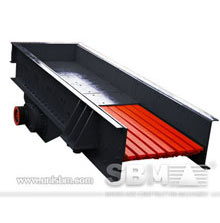 Vibrating feeder is the feeding machine widely used for continuously and evenly feeding materials to coarse crusher. Vibrating Feeders are designed with these sub-resonant tuning characteristics to assure efficient material transference, promote quieter operation, and reduce energy and maintenance costs.
Grizzly vibrating feeders are used for large materials and high production rates, with capacities up to 600 T/h and widths from 600 to 2.000 mm. Grizzly Feeders reduce maintenance costs and lower capital expenditures by eliminating the need for a separate grizzly feeder.
Pan feeder is Heavy-duty feeders with full-length pans. It is ideal for feeding conveyors, scalpers, screens, and crushers. Pan feeder is designed withstand exposure to all kinds of weather. Standard feeder sizes range from 24" X 6' to 86" X 30'. The vibrating drive assembly is connected directly to the pan to assure positive action under the most adverse loading conditions.
SBM vibrating feeder can adjust grizzly openings to maximize flexibility and productivity. Configurations can be custom-engineered for your operation with up to three grizzly deck.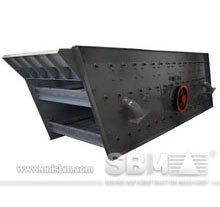 Vibrating screen is the sieving equipment to separate aggregates by particle size. It can be widely used in sand gravel, building aggregates production line. They can perform classification, protective and control screening, dust removal and water removal from almost all bulk goods in the fine, medium and coarse ranges.
Circular Vibrating Screen is used widely in grading and screening of non-sticking grained materials in such fields as chemical industry, minerals, quarry, building materials, smelting, etc. They are used for screening of inlet grains to 3 – 5 fractions.
Linear Vibrating Screens with double unbalance drive unit are able to handle the increasing feed rates and meet the versatile requirements inherent to primary screening, sizing, dewatering, depulping and filtration of bulk materials such as hard rock, limestone, gravel, coal, ore, oil sand and salt.
Belt conveyor, feeder, screen manufacturer
SBM is a belt conveyor, vibrating feeder and screen manufacturer in China, and offer types of belt conveyor, vibratory feeder, vibrating screening machine for sale for stone quarry, sand gravel and mine ore mining, processing plant.
SBM is one of the world's leading manufacturers of machines and plants for the processing industry. SBM Engineering has been involved in the design and construction of cement plants, lime works, quarry and crushing plants, as well as gravel and sand pits for more than 30 years.
Contact E-mail: [email protected]