Rock breaker machine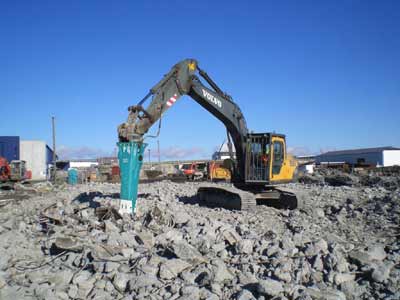 Rock breaker machine is mainly used for breaking stones for construction building materials production, such as aggregates, sand gravel.
Rock breaker type
Rock breaker machine usually is 3 ~ 8 ton class. SBM can offer hydraulic & gas-hydraulic rock breaker machine for sale for quarrying and mining industry suitable for all kind of backhoe loaders & mini excavators with Easy service and maintenance, and Lower fatigue on base machine..
Hydraulic rock breaker
Hydraulic rock breaker is designed for harsh, continuous duty for use in demanding rock breaking applications. Pure Hydraulic Technology gives consistent performance on every blow. It features Lowest running cost in its class, while High return on investment and Extra-long stroke pressure balanced piston in conjunction with oil regeneration system.
SBM has over 30 years experience in the manufacture, sales and service of our range of quarry, construction and recycling attachments, can offer a comprehensive range of Rock Breaker Boom Systems that include both Static Pedestal Mounted Booms and Mobile Crusher Mounted Booms.
Mobile rock breaker
Mobile Boom Systems are specifically designed for mobile crusher applications. As a general rule the boom systems are powered directly from the mobile crushers own hydraulic system. It is ideal for integration onto small to medium size mobile crushers. Purpose-built heavy duty, large cross-section boom provides excellent dexterity and strength when raking and breaking oversize material.
Mobile rock breaker is lightweight and compact. Their compact dimensions enable the boom to remain on the crusher during transport thus eliminating down-time on site for assembly and disassembly. By design this boom can be mounted close beside the jaw allowing the boom to be mounted using the crushers existing structural steelwork. Low profile side mounted breaker provides low tram and operating heights
Rock breaking system
The stationary rock breaker system is used for handling of oversize, material flow on grizzlies (ore passes), rockboxes and crushers. Breaker Technology now offers the world's broadest selection of Stationary Rock breaker Systems and mobile equipment to effectively meet the needs of a variety of applications in the world's crushing, mining and metallurgical industries.
SBM manufacturer mine, quarry, construction and demolition equipment machines and design stationary and portable rock breaker system, Specializing in crushing machine (including jaw crusher, impactor, cone crusher, mobile crusher, hammer crusher), grinding mill, vibrating feeder, screen, and washing machine and mine ores processing equipment.
Related Machine