Mobile concrete crusher plant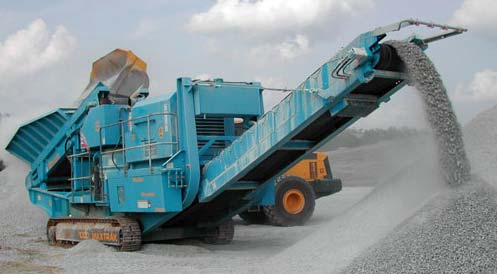 Mobile concrete crusher plant is the complete portable stone crushing and screening unit. It avoid transportation costs and hassle and Increase scrap value by crushing reinforcing metal clean of concrete. Mobile concrete crusher plant includes crushing and screening machine used for concrete debris, brick and rubble crushing and recycling.
Concrete crusher machine:
Concrete crusher is the main stone crushing machine used for coarse and fine aggregate production. These aggregates are used for concrete making.
Jaw crusher can be used in mobile concrete crusher plant, this concrete jaw crusher is mainly used for coarse aggregate production. Large jaw crusher can make up the large portable concrete crusher plant, while small mobile concrete crusher consist of small jaw crusher.
Cone crusher also can install at the mobile concrete crusher plant. This concrete cone crusher is used for fine aggregate production by crushing stones and recycling concrete waste.
SBM mobile concrete crusher machine is suitable for primary and secondary applications in quarrying, contracting and recycling, and can be used to crush large bricks, large blocks, large concrete slabs, glass, porcelain, marble, granite, asphalt and reinforced concrete.
Concrete screening machine
Mobile concrete crusher plant usually contain vibrating screening machine. Concrete screening machine with a magnet separator is used after crushing plant to screen crushed concrete. The concrete screening machine includes Double-deck sifter, or triple-deck sifter to sieve different aggregate size. Dry screen is designed and built for large-scale operations. The unit provides constant, uniform sizing and can process up to 500 tons per hour, depending on mesh size and material type.
Material feeding is via an automatic speed control grizzly feeder or excavator ensuring a 45-110 tons per hour production capacity. The size of the product can be varied depending upon requirements, from 0" – 3". Alternatively, oversize material can be re-circulated back to the crusher via on-bound conveyor to give a guaranteed finishing top size.
Mobile concrete crusher plant manufacturer
SBM is a professional mobile concrete crusher manufacturer in China, and offer the complete mobile concrete crushing and screening machine for concrete recycling plant in USA, South Africa, Nigeria, India, south Africa, Saudi Arabia, Kenya, Canada, the Philippines, Botswana, Ethiopia, Australia, Singapore and UAE. We also supply alligator excavator attachments, digger bucket crushers, mini or small concrete crusher for sale with best price for stone crushing and concrete recycling in aggregate production line.
Concrete production line