Stone Quarry in Kenya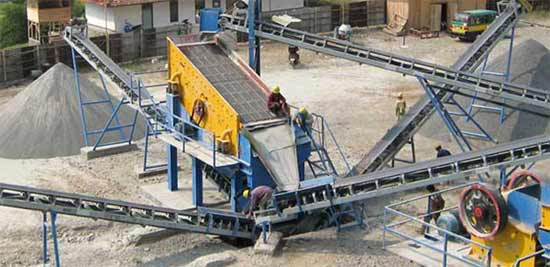 Stone quarry plant in Kenya including gravel quarry, Limestone, Fluorspar, soapstone, granite, marble stone quarrying is for crushed rock, construction sand, sand aggregate producers.
Limestone quarry plant in Kenya
Limestone quarry plant in Kenya is mainly used for manufacturing crushed rocks, sand aggregate, and construction sand for building or stone powder for cement plant.
In the limestone aggregate quarrying site, jaw crusher is widely used as primary crushing machine. It is widely used in rock crushing industry in Kenya. SBM can offer small and large mobile jaw crusher for limestone quarry plant. Vibrating screen is used as screening machine for classification and gradation. VSI crusher used in limestone quarry plant in Kenya is a sand making machine for industrial sand, construction sand production.
The limestone quarry industry in Kenya can produce 690,000 tons of limestone for cement, and 31,500 tons for dimension stone. SBM has offered limestone quarry machine to help set up quarry plant at Bamburi and Mombasa. The limestone deposit near Bamburi and Mombasa have resources of 50 million tons.
Marble stone quarry plant in Kenya
Marble stone quarry plant is widely used in mining and construction in Kenya. The complete stone quarrying plant is consist of jaw crusher, vibrating screen, feeder, and belt conveyor. SBM has offered marble stone quarry plant and machines for sand aggregate producers in Kenya.
In building stone mining industry, marble stone quarry plant is used for ballast, slate stone quarrying, and calcium carbonate powder making. SBM can offer jaw crusher, cone crusher, ballast grinder mill for the whole marble quarry plant in Umani, Mutini of Kenya. A travertine resource from the Umani Crater have 35–60 million tons, and marble resources at Mutini totaled 23 million tons.
Sand gravel quarry in Kenya
Sand gravel quarry in Kenya is used for crushing granite, quartz into small particle for industrial sand, crushed rock, construction sand, and silica sand manufacturing. The sand and granite quarries in Kenya is widely used for quarrying granite, marble, fluorspar, limestone, gemstones in
SBM is a stone crusher manufacturer in China, and dealers in Kenya, can offer jaw crusher, impact crusher, hammer crusher, ball mill and vertical grinding mill for stone quarry plant in Kenya, like granite crusher for sand granite quarry, VSI crusher for sand gravel quarry, ball mill for calcium carbonate powder manufacturing and vibrating screen mesh for construction sand, silica sand. SBM also provide quarry machines plants for other rock crushing industries, like ballast and concrete crushing, Fluorspar processing.
Contact E-mail: [email protected]