Limestone Crushing Mill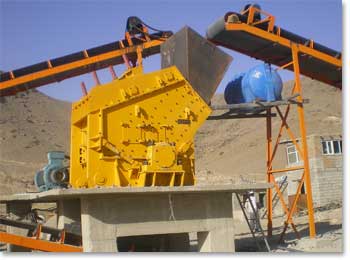 Limestone crusher and grinding mill are widely used in cement industry. In the cement plant, limestone crusher is used for crushing limestones into small grains, then the crushed limestons undergo grinding mill for limestone powder manufacturing.
Limestone crushing Mill in cement plant
Limestone is the main raw material in cement plant. Firstly limestone is crushed by limestone crushers, then mixed with clay in accordance with a certain proportion. The mixed materials enter into cement mill for grinding into powder. There is chemical reaction of these powder in rotary kiln. Clinker from the rotary kiln must be grinded into pwder in raw mill.
In cement processing plant, limestone crushing machine and grinding mill is the main cement production equipment.
Limestone Crusher in cement plant is used to crush limestone into small pieces. The size of limestone after crushing by limestone crusher is less than 70mm. In the limestone crushing plant, jaw crusher can be used as limestone crushing machine, impact crusher is also can be used as limestone machinery. Hammer crusher for limestone crushing in cement plant is the most widely used crusher machine. It's fineness is less than 15 mm.
Limestone grinding machine is the mill used for grinding crushed limestones into powder. The size of limestone powder is more than 200 mesh. In cement grinding plant, ball mill can be used as limestone grinding mill, raymond mill is also can be used as limestone grinding machine.
Limestone crushing mill manufacturer
SBM is a famous limestone crusher and grinding mill manufacturer in China, and supplies limestone crushers and cement mills for sale wtih competitive price for cement industry. Our cement crusher includes jaw crusher, impact crusher, cone crusher and hammer crusher etc. Cement mill mainly include ball mill, raymond mill, vertical mill, trapezium mill and ultrafine grindng mill.
SBM also desing the limestone crusher, grinding mill and the whole cement plant for cement production. Now SBM cement plant machines have exported to many countries such as Iran, Philippines, India, Pakiatan, Finland, England, Japan, New Zealand, Kenya, Ghana, France, USA, Yemen, Australia.
Cement Plant Equipment