Cement coal mill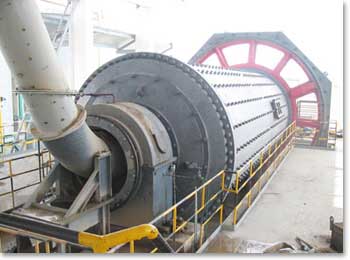 Coal mill (coal pulcerizer) is the essential machine used in cement plant, because coal is the important raw materials in cement production line. Coal powder after grinding by coal mill enter into the rotary kiln toghter with cement raw meal for burning.
Coal powder has special strict demand in fineness. The finished size is 0.0445mm.
General in the complete coal powder production line, Crushing is the first step, using the coal crusher to crush coal into small particle. These small coal particle is grinded into powder by coal mill. The whole system consist of main coal crusher, coal mill, blower, dustpan elevator, electro-magnetic vibrating feeder, impulse dust cleaner, cyclone collector device, classifier, high-pressure motor and muffler. The complete coal crushing and milling line is helpful to environment protection.
Coal Mill Type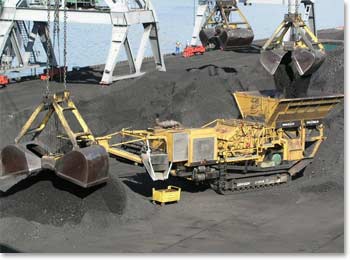 Several types of coal pulverizer to be chosen for powder plant.
Ball mill is widely used in cement industry. There are two types: wet ball mill and dry ball mill. Ball mill has simple structure, low cost, high capacity and convenient maintenance. It is the main coal mill used in cement plant. SBM Engineering has continuously refined the design of its ball mills, These heavy-duty mills feature hydrostatic lubrication with either geared or gearless drive arrangements.
Vertical coal mill is also called vertical roller mill, and is also widely used in cement industry. Verticla roller mill grinds and dries all types of coal and is highly economical in terms of specific energy consumption. Vertical cement mill is big in appearance with high capacity. For clinker grinding, we general use this vertical cement mill. The finished size can be upto 0.045mm.
Raymond mill is the eary grinding mill, but now is still used widely. The finished particles can be upto 0.044 mm, and have a good uniformity of fineness with passing screen rate as high as 98%. Raymond mill is used in small coal powder production line for cement industry.
Cement coal mill manufacturer
SBM is a famous coal crusher and coal mill manufacturer in China, and supplies all kinds of coal crushers, coal mills, and other cement mills for your cement grinding plant with best price. We also design the complete coal crushing and grinding plant according to your production capacity.
Cement Plant Equipment