Cement Grinding Mill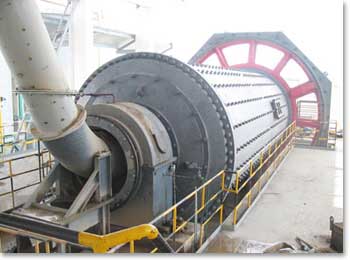 Cement grinding mill is used to grind cement ingredients like limestone, cement clinker into powder. It is widely used in cement milling process.
Type of Cement grinding mills
In the cement plant, there are several types of cement mill used.
Ball mill is the main cement grinding mill used in cement plant, and is used for grinding limestone, gypsum, bauxite and other cement additive into powder to make cement clinker. Ball mill is also used to grind cement clinker to make cement. SBM can offer types of ball mills for cement plant.
Vertical roller mill is widely used in coal powder manufacturing process in cement plant, it is mainly used to crush and grind coal into powder for cement manufacturing. Vertical roller mill is an energy-efficient alternative to ball mill systems, Designed for economically grinding a variety of cement types.
Cement grinding mill manufacturer
SBM is a professional cement grinding mill manufacturer in China, and supplies all types of stone crushers and cement mill for sale for cement plant. We also dsign a complete cement grinding unit with milling process for your cement factories in Kuwait, Pakistan, Ghana, USA, Russia, Brazil, Korea, India, China, Jpan, UAE, Bangladesh.
Cement Grinding process
In cement production line, cement grinding process is the key step. In the cement grinding process, limestone, coal, gypsum and clinker need to be grinding into powder by cement grinding unit.
Limestone grinding: Limestone firstly is crushed by limestone crusher, then small pieces after crushed are mixed with additive materials. The mixed matrials enter into raw mill for grinding. In this process limestone crushing machine and mill is very important. Ball grinding mill and raymond mill can be used as cement limestone grinding mills.
Coal grinding: Coal is another raw materials in cemen production line, we need coal crusher and coal mill for cushing and grindinging coal into powder. These coal powder enter into rotary kiln together with limestone powder. Vertical mill and Trapezium grinding mill can be used as cement coal grinding mill.
Gypsum grinding: Gypsum also need to be crushed using cement crusher. Then the small size of gypsum and clinker after cooling in cooler enter into the cement grinding mill for grinding. Cement Ball mill is used as cement grinding machine to grind gypsum and cement clinker into cement powder.
Cement Grinding plant