Cone crusher in the Philippine for quarry, mining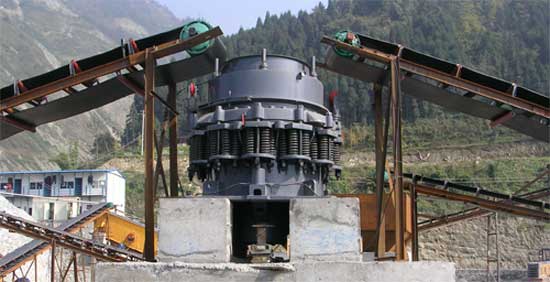 Cone crusher is the fine stone crushing machine used in secondary or tertiary crushing process in a crushing circuit. SBM offer CS cone crusher with short head and standard type, spring cone crusher, hydraulic cone crusher and mobile cone crusher.
Cone crusher in the Philippine
CS cone crusher in the Philippines
CS cone crusher is the new type cone crusher, it is designed based on spring cone crusher. Pre-crushed product (usually 3in minus depending on the cone crusher model) is fed through the top of the cone crusher and flows over the mantle. The vertical cone crusher drive shaft rotates the mantle eccentrically below the concave, or bowl liner, squeezing the product and crushing it between the mantle and concave.
SBM cone crusher features High productivity, Low cost daily run, Many cavity types and Credible dry oil seal prolongs the cycle of the lube and use life. SBM offer short head and standard CS cone crusher with low capacity 50 t/h and large Capacity 500 tons/h.
Hydraulic cone crusher in the Philippines
Hydraulic cone crusher is the cone crusher with Reliable Hydraulic system. This system provides safe and effective overload protection. It features High automation adopting hydraulic adjustment and hydraulic clean cavity setting, strong crushing ability, High efficient productivity, High capacity, reliable work and low cost.
SBM hydraulic cone crusher has two type of crushing chamber for wide range of product size requirement. SBM can offer 3 foot, 4 foot, 4 1/4 f, 5 /2 f and 7 footer cone crusher for sale for the rock crushing plant in stone quarry and mine ore mining processing.
Mobile cone crusher in the Philippines
Mobile cone crusher incorporates all the equipments together on one truck to ensure the crushing plant be easily transported on highways and moved to crushing sites. Mobile cone crusher can start to work soon even in the bumpy ground without reinstallation, so it saves more time and money than fixed crushing plant which needs to install individual equipment one by one.
SBM is famous cone crusher manufacturer in China, and has a wide range of cone crusher models to handle various type of aggregate product and process capacities. SBM offer bare cone crusher units, modular and portable cone crusher assemblies and entire crushing plants.
Cone crusher for quarry, mining
Cone crushers are used extensively throughout the aggregate and mineral processing industry.
Cone crusher is mainly used in secondary crushing process for marble mining in the Philippines. Marble is mainly used for aggregate production, sand making or industrial powder manufacturing. In the marble crushing plant, cone crusher work with jaw crusher, vibrating feeder, screen and belt conveyor to make up the complete crushing station. Expect for aggregate and mining, cone crusher is also used in demolition, Industrial and Construction.
In the Philippines, cone crusher is also used as copper ore crusher machine. In the copper ore mining plant, cone crusher is used for crushing mine ores into small pieces for next grinding process. The crushed copper ore is then ground even smaller by a series of mills. The slurry of finely ground ore that emerges from the final ball mill contains particles about 0.01 in (0.25 mm) in diameter.
SBM offer crusher and grinder mill used for marble stone crushing, iron ore mining, gold mine processing, copper ore Concentrating, sand, concrete, cement industry in USA, south Africa, Lebanon, India, China, Korea, Ireland, Brazil, Spain, Malaysia, Orissa, Australia, Germany..
Contact E-mail: [email protected]