Granite mining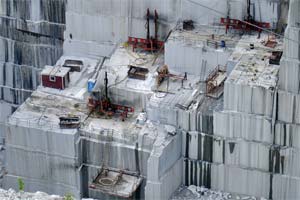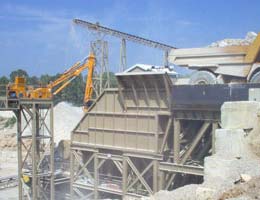 Granite mining is a special production feature of blocks of considerable size and weight. The process and equipment used for granite mining differ considerably from those used for mining other minerals.
Granite mining plant in India
The granite mining in India is an age-old phenomenon and started in a small way in 1930s when some trimmed blocks as kerb stones we are exported to UK. Granite processing basically involves sawing or cutting of raw blocks into the tiles/slabs of required size & thickness and polishing of sawn-off surfaces. Other ancillary functions involve edge cutting, milling, boring and contouring for enhancing the quality and price of production.
Granite mining process
The granite mining process involves two important stages of operation: one is actual block splitting either from sheet rock or boulder and the other operation involves many items of works, such as removal of weathered zone or overburden, opening of faces, lifting of cut blocks, transportation and many other ancillary work before and after the block splitting.
Granite mining equipment
Granite mining equipment is used to mine granite rocks for aggregates production. These granite aggregates are used primarily for building foundations, road, bridge and pier construction.
The actual block splitting from the sheet granite rocks or boulders is mainly done manually or in some cases by semi-mechanized method whereas the other operations, such as removal of overburden, lifting and transportation of cut blocks, etc. are carried out by mechanized method. There are a very few mines which adopt the modern method of block splitting by using flame-jet burner and diamond wire saw for cutting. Heavy-duty cranes of capacity to handle 50-tonne blocks from a depth of more than 60 m have brought revolution in granite quarrying by way of more output with less cost. The percentage recovery of granite is quite low, and it varies from 5 to 15% because of unscientific granite mining method.
SBM is a famous granite mining equipments manufacturer in China, and offer types of machines like crusher, grinding mill and screening machine for granite mining plant. We also design granite mining process flow chart for granite mine in India, South Africa, Sri Lanka, Nigeria, China, USA, Qatar, Ethiopia, Vietnam, Italy, Yemen, Ghana, Zimbabwe and Malaysia.
Granite Mine Project