Coarse, Fine aggregate quarry process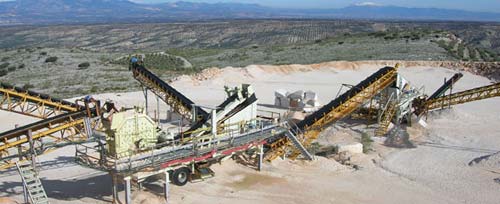 Coarse , Fine aggregate quarry process is used for producing construction related material such as specified and unspecified construction aggregates and road stone, concrete aggregate, bituminous aggregate etc.
Aggregate quarry process
a typical aggregate quarrying process includes primary, secondary, tertiary crushing, screening, washing and Conveying. The secondary crushing occur after primary crushing and screening. The last tertiary crushing and screening operate before by re-crushing, and material handling.
In the aggregate quarrying process, aggregate crushing is used for crushing limestone, granite, marble, cobble, river stones, quartz into small pieces including 0-6mm Crushed Fine Aggregate, 50-100mm, 20-40mm, 10-20mm, and 10-14mm Single Size Whinstone. The aggregates are raw materials that are used to make construction products such as lime, mortar, asphalt and concrete,
in the aggregate washing section, sometimes to meet specifications of some aggregate products such as concrete aggregates require washing to remove fines. Because it is wet process, it essentially produces no particulate emissions.
Aggregate quarry plant
Aggregate quarry plant is used for manufacturing sand, gravel, and crushed stone. These aggregates are mined or quarried and used in their natural state except for such operations as crushing, washing, and sizing.
The crushed stone, sand, gravel produced by aggregate quarry production line is widely use in Buildings, highways, roads, bridges, railroads, airports, seaports, water and waste treatment facilities, and energy generation facilities. Some other aggregates quarry process provide limestone for use in the manufacture of cement or dimension stone for building and decorative use, but do not produce crushed stone for use as aggregate.
SBM has offered aggregate quarry plant for Wunderlich quarry in Colorado, The Rogers Brothers quarry in Nebraska, The Bertrand quarry and The Holloway quarry in the Denver, Colorado, USA.
Aggregate quarry plant is also used for recycling aggregate from recycled concrete or asphalt. Each year, in England around 50 million tonnes of recycled and secondary aggregates are produced. These aggregates are predominantly sourced from construction and demolition waste.
Contact E-mail: [email protected]