The complete crushing and screening plant
Crushing and screening plant is used for making several type of stones which are different in sizes. These stones of different sizes can be used in construction, cement, concrete, and other industries.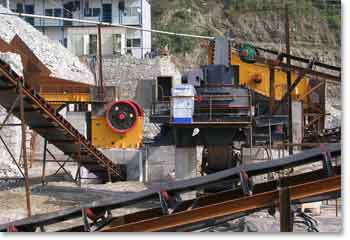 The complete crushing and screening plant is composed by jaw crusher, cone crusher, impact crusher, belt conveyor, vibrating feeder, vibrating screen, and hopper. Jaw crusher usually is primary crusher, and is used for primary crushing. Impact crusher and cone crusher is used for further crushing. Vibrating screen can screen out the stones that are meet the requirements. Stones that are not suitable is back for re-crushing. Belt conveyor is a transport machine that carry raw rocks between two crushers.
The crushing and screening plant can be used for crushing and screening all kinds of stones and ores, such as marble, basalt, limestone, quartz, granite and iron ore, copper ore, coal, manganese. Ballast crushing and screening plant is specially used to crush and screen ballast particles.
Crushing and screening plant manufacturer
SBM is a crushing and screening plant manufacturer in China, and offer fixed and mobile crushing and screening plant in Australia, Southeast Asia, Middle Asia, South Asia, South America, Middle East, east European, and Africa, such as Russia, Kazakhstan, Azerbaijan, Turkey, Kuwait, South Africa, Egypt, Vietnam, Malaysia, India, Australia, Korea, Canada and the European Union, Africa, North and South America and other regions.
Contact E-mail: [email protected]