Bauxite washing plant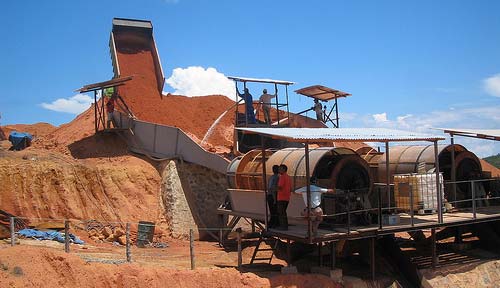 Bauxite washing plant is a relatively simple and inexpensive process of removing clay. Through bauxite washing plant, grade of the bauxite mined can be improved, so bauxite does not require complex processing.
Bauxite is generally extracted by open cast mining from strata, typically some 4-6 metres thick under a shallow covering of topsoil and vegetation. In most cases, large blanket type bauxite deposits is from surface mines like Guinea, Australia, Brazil and Jamaica. With the rest, mainly from Southern Europe and Hungary, from underground excavations.
Clay is usually attached to the surface of the alumina mineral particles and it needs bauxite washing plant to remove clay and clean the surface of mineral particles. The energy is usually supplied in the form of water jets in trommels following by screening called bauxite washing.
The washed Bauxite material 1190 µm which is rich in alumina and low in silica is sent directly for the Bayer process plant feed. The washed fraction below 1190 µm is passed through a series of cyclones, screens and filter to remove clay with minimum amount of alumina loss with rejected clay.
Bauxite washing machine
Bauxite washing machine is used in bauxite washing machine to remove the clay and silica. It is used following screening process.
XSD series bauxite washing machine is a kind of wheeled washing equipment, and can clean and separate the dust and powder from the sand. Its new seal-structure and reliable driving device can make sure the cleaning effective and a kind of high efficiency washing equipment matched with the crushing and screening machine.
Rotary Scrubber is a cost effective bauxite washing unit that is an integral part of a material handling system to upgrade primary crushed ore. Rotary Scrubbers liberate silts and soluble clays increasing ore purity at high capacities and providing high retention times. Rotary Scrubbers and combination Scrubber Screens (trommel type) are available in several sizes and configurations. Minerals that are washed by Rotary Scrubber include iron ore, phosphate, rutile, bauxite, high calcium limestone, sand and gravel.
SBM is a famous bauxite washing machine manufacturer in China, and offer bauxite washing plants for mining and beneficiation plant in China, Brazil, Guinea, India, Indonesia, Jamaica, Australia, Singapore, Tanzania, USA, Korea, Pakistan, Kazakhstan, Suriname and Vietnam. SBM also design bauxite washing process for mining and processing at bauxite deposits.
Related Products
Bauxite Processing Plant
Contact E-mail: [email protected]