Bauxite ore grinding plant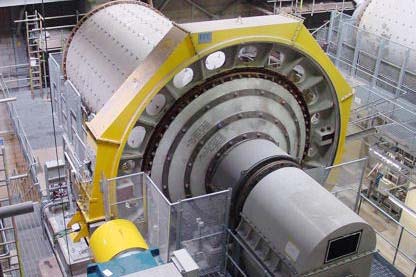 Bauxite ore grinding is the important beneficiation operations at bauxite mines used for particle size reduction for separation of mineral and waste.
Bauxite grinding flow diagram
In the bauxite grinding plant, aluminum ore begins with crushing and grinding to 1-2 inch particles and wet screening, to remove some silica fines, which are generally present with bauxite.
After crushing, wet grinding of bauxite is accomplished in either open or closed-loop milling circuits using various types of grinding mill designs, tailor made to the bauxite. After reclaim using bucket-wheel stacker-reclaimers, the ore is dried from an average 12.5% moisture to 6.7% for shipping.
Bauxite Deposits are located in areas varying from gentle undulating to rugged, major capital expenditures in establishing a system of ore transportation like belt conveyors and dust-control systems.
Bauxite grinding mill
Bauxite grinding mill is used for grinding crushed bauxite ores into small size for beneficiation.
Ball mill for bauxite
Ball mill is the main bauxite grinding machine used in bauxite beneficiation process. It has been designed in standard sizes of the final products between 0.074 mm and 0.4 mm in diameter. Ball mills are sized from 2 t/h to 30 TPH for wet grinding and from 0.5 t/h to 30 TPH for dry grinding.
Hammer crusher for bauxite
Hammer crusher is used in bauxite crushing plant before grinding process. It is one of the main equipment for intermediate and fine crushing the brittle materials with less than intermediate such as limestone coal and other used in metallurgy, building material, chemical and water - power industry, with a feature of big crushing ratio and even product graininess.
Vibrating screen for bauxite screening
Vibrating screen is the main bauxite screening machine. The heavy duty industrial vibrating screen separator has set the standard on most primary screening and scalping applications through exceptional reliability and high productivity in the toughest industrial environments. SBM Straight line vibration screen is of superb quality in double deck, triple deck, 4 deck.
SBM is a professional bauxite grinding mill manufacturer in China, and offer types of grinding machines for bauxite grinding of bauxite beneficiation plant in China, Brazil, Guinea, India, Indonesia, Jamaica, Australia, Singapore, Tanzania, USA, Korea, Pakistan, Kazakhstan, Suriname and Vietnam. SBM also design bauxite grinding flow diagram and equipments for bauxite mining and processing plant.
Related Products
Bauxite Processing Plant
Contact E-mail: [email protected]